With all the holiday madness, I haven't had much time for blogging, and won't for a few more days yet, sorry. I hope you're all having relaxing, enjoyable holidays!
In the meantime, here's some wonderful dance to entertain you for a few hours over the holidays.
Firstly,
Matthew Bourne's Christmas
, a spectacular review of Bourne's 25 year career, from well-known blockbusters like
Swan Like
and
Nutcracker!
to his earliest work. If you think dance is just stuffy nonsense, watch this and be proved wrong.
Dorian Grey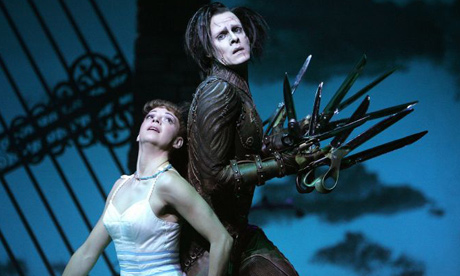 Edward Scissorhands
Then moving behind the scenes,
Balletboyz: Next Generation
is a fascinating glimpse into the lives of an elite troupe of male dancers put together by Michael Nunn and William Trevit, culminating in a trip to Ethopia for a history-making collaboration with local dancers. It reminded me very much of the Performance In Place of War work, as regards the power of the arts to bring people together and overcome adversity. Find out more about them and the project at
www.balletboyz.com