When I was in Sixth Form, Hoxton and Shoreditch were home to my favourite places to go out, like The Old Blue Last where I flailed to the many unknown indie bands I used to follow. Six years have passed since I was last there, and in that time the area has become the urban art centre of London. Thankfully, my Dad knows his way around and gave me a tour on Thursday that culminated in the opening of artist Dan Kitchener's Tokyo Neon solo show at the Hoxton Gallery.
Our first mission was to visit
The Brick Lane Gallery
to make an offer on this Basquiat inspired piece by Per Andresen, called
Usuaul Problem.
We're both huge Basquiat fans, and know that this is the closest we'll get to owning an original. Despite a disagreement with the woman in the gallery about the line between rip-off and homage, I'm happy to say this will soon be hanging on Dad's wall.
On our way to the gallery, Dad took me past some of the best spots for graffiti, including
Cargo
, home to an original Banksy, so valuable now that has to be protected behind perspex. I appreciated the yellow sock-puppety creature next to it.
On the other side of the Banksy at Cargo is this awesome fish mural. It's a shame you can't see from this picture, but I loved how while most of the picture is very realist, the nude in the middle has a smiley face that looks more like an Ecstasy tablet.
We wandered past countless other murals on our walk through Shoreditch, including this Brazilian scene near the old abandoned Shoreditch station.
I enjoyed the bright colours and cute characters of this mural by Malarky.
Then it was off to
Hoxton Gallery
for
Dan Kitchener
's
Tokyo Neon
, which housed a collection of spray-can paintings elebrating the beauty of neon reflections. The opening night seemed very popular and one of the paintings sold within the first 15 minutes!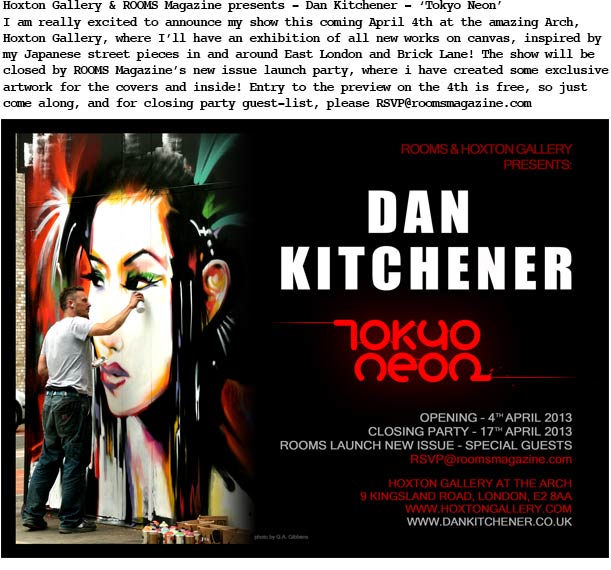 Dad's friend, Andy Crosbie, is a real urban art connoisseur and long-term supporter of Kitchener. I'm very grateful to him for these photographs of two of the most striking pieces, which are far better than any I could have taken. Like Dan himself, I prefer the more abstract pictures, like the top one, but the more figurative second picture, going for £3500, seemed to be the big draw.
Tokyo Neon runs until 17 April at Hoxton Gallery.